---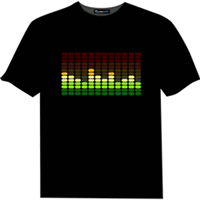 TQ Raver Equaliser Flashing T shirt
The TQ Raver is now improved with streamlined design and advanced technology to enhance your clubbing experience even further. The technology has been visibly refined with an even lighter thinner display, brighter colours and more responsive graphic equaliser.
The TQ Raver literally turns you into a human graphic equaliser, as its wide spectrum controller processes the music around you. Each musical frequency detected activates a different coloured equaliser bar, just like the equalisers on home stereos and the latest digital recording equipment.
The built-in controller can be intuitively adjusted to respond to chilled out low level sound or the heaviest loudest metal and house that you can stand.
As with the display itself, the battery pack is lighter and is incorporated into the durable display panel, giving you long battery life and assurance that the system will stand up to anything you can throw at it.
That way, the graphic equaliser shines and the focus will stay exactly where it should be - on you!
Features:-

* hand wash only - battery pack can be unplugged for easy washing
*100% cotton

* Requires 4 x AAA Batteries (not included)
T-Shirt Chest Sizes in inches:-
Small 36-38, Medium 39-41, Large 42-44, X Large 45-47