---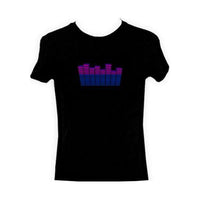 Graphic Equaliser Music-sensitive light up flashing T shirt (Version 2)
Going clubbing? Want to stand out from the crowd? Then you need a Thumbs Up Graphic Equaliser v2 T-Shirt with unique 3D effect panel.
This will really make people notice you as you light up the dance floor.
The Thumbs Up Graphic Equaliser v2 T-Shirt is a light-up shirt with a built in graphic equalizer panel that is sound sensitive. As the music beats, the shirts equalizer lights up to the beat of the music.
Great for concerts, raves and parties.
This shirt is the latest edition to the Electro  range with improved advanced design and technology.
The controller box is built with a wide spectrum sensor controller that can be adjusted to detect low level sounds or adjusted to work in noisy head banging clubs.
Improvements
Thinner, more comfortable panel
Advanced controller box with wide sensitivity sensor
Die cut panel in the shape of an equalizer gives it a seamless effect
30% brighter
Amazing universal appeal with brand new 3d design
Material: 100% cotton
Requires 4 x AAA batteries not included
Sizes available:-
Small (35-37 chest)
Medium (38-40 chest)
As this is a unisex T shirt these are mens sizes